Ask Candace, Stacy, Isabella and Sometimes Jenny Comic

Author
AJM STUDIOS
Illustrator
AJM STUDIOS
Publication date
Created 2012
Published by
AJM STUDIOS
Publication Order
Preceded by

Followed by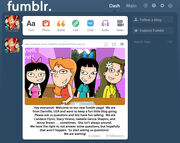 Ask Candace, Stacy, Isabella, and Sometimes Jenny
(Often shortened to CSIJ) is a comic series created by
AJM STUDIOS
and first released on March 26, 2012. The series was released as a test when it was originally released and somewhat mocked the popular "Ask" type comics made popular by Tumblr users.  It has been viewed as a successful series and follows the format of a question for one of the cast, and then they answer.  The comic is interactive with people who leave comments, often having characters directly interact to followers.
All the characters are based on characters from the popular Disney cartoon, "Phineas and Ferb," but they clearly have aged and act different in certain cases.  
Even though a parody of Tumblr, the comic takes place fictional on a social network known as Fumblr.  The series is also not on Tumblr.  The cartoon is released elctronically online through Deviant Art.
Upon release of the first episode on March 26, 2012, the cartoon had over 30 responses from fans and over 1,500 views.  The second episode released a few days later on March 31st had over 3,500 views and 60 responses.  It quickly became a popular series with a loyal following that enjoyed being involved with the characters.  It was a way for the Phineas and Ferb fanbase to communicate and ask questions to their favorite characters.
The first season of the show ended in December of 2012 with a total of 11 episodes, one of which was a "lost episode."
As of January 17, 2013, the series had over 21,300 views and over 467 responses from fans.
As of January 13, 2014, the series had over 44,800 views and over 762 responses from fans.
Main Characters
Edit
The cast, while looking similar to the show, all have a different appearance. The most similar would be Isabella, but they all have body changes and to some degree, clothing changes.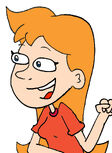 Candace Flynn
is the leader of cast and is best friends with Stacy. She tends to get worked up about minor details and seems to get angry/flustered about things if it seems like a common sense answer. She leads the intro to every episode except one.
Stacy Hirano Is considered Candace's sidekick and is best friends with Candace. Her age is similar to Candace's though it is never stated who is older. Her responses to people tend to be more reserved and down to earth. People continue to label her as a video gamer, but she constantly denies this through her responses.

Isabella Garcia-Shapiro Is the youngest of the foursome, and has a major crush on Candace's brother, Phineas. Everyone knows she likes him, though she still is afraid to tell Phineas she likes him. She is often viewed as the "cutest" of the four.

Jenny Brown is a friend to Candace and Stacy. She is known for being the funniest of the group. She is conservationist and environmentalist, though her political views in the comic sometimes lean to the right. An ongoing gag is how fascinated Jenny is with the show, "My Little Pony: Friendship is Magic."

Other Characters
Phineas Flynn Is the younger brother of Candace and step brother of Ferb.
Ferb Fletcher Is the younger step brother of Candace and step brother of Phineas.
Jeremy Johnson is Candace's boyfriend. His prominent role in the series was conducting what he called a "scientific study."
Coltraine is Jeremy's friend and seen in a few episodes. He once dated Stacy.
Django Brown is the younger brother of Jenny.
Jenny Hirano is the younger sister of Stacy.
Eliza Fletcher is Ferb's cousin from England. Visited in Episode 9.
Vanessa Doofenschmirtz is sometimes seen as a friend by the cast and has appeared in episode 6 and 9.
Episode 1
Episode 2
Episode 3
Episode 4
The Lost Episode
Episode 5
Episode 6
Episode 7
Episode 8
Episode 9
Episode 10
Episode 11
Episode 12
Episode 13
Episode 14