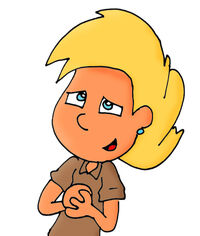 Caity is a main character in the comic series Caity and Sadie Comics. The comic usually focuses around Caity who does everyday tasks. She is seen cleaning house, meeting friends, shopping, or just chilling around.
Relationships
Edit
Caity has a Dad, Mom, and brother. She lives out on her own, and is a college student, and young adult. Her parents will sometimes pay her a visit. She seems to have a better relationship with her Dad then with her Mom. Nothing is known about her and her relationship with her brother. One odd thing though, is the series never shows Caity at college.
Caity's best friend is Tyler. They often do things together, but Caity always makes it apparent they are not dating. In the episode, Moving Day, it is shown Tyler moves next door to Caity. They both seem to own a home.
Caity has been shown dating Justin.
One person Caity does not like is her old high school nemesis, Christina.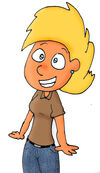 The location Caity lives is unknown, but in the episode, Hike, in the second panel a view of a city is shown, which has a building like the Seattle Space Needle. It is also a mountainous region with pine tree's. Also in the episode, The Cold, in part one a sign at a bus stop reads "King Transit" which could be short for King County Transit, located in the U.S. State of Washington, home to Seattle.
Ad blocker interference detected!
Wikia is a free-to-use site that makes money from advertising. We have a modified experience for viewers using ad blockers

Wikia is not accessible if you've made further modifications. Remove the custom ad blocker rule(s) and the page will load as expected.