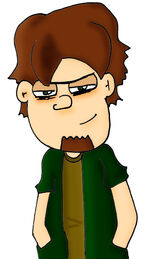 Monteview is a character in the AJM STUDIOS comic, Batsman and Batling. He is a villain in the series.
Monteview is villain in the city Batsman and Batling patrol in. Monteview has a strange taste for villainy in the city, doing off beat crimes, and having weird ideas to stop things he dislikes. One could argue he is not that bad.
Appearances
Edit
In the episode, "The Power of Music," Monteview says he "returned" meaning he had left the city at some point, before the comic series started.
With his technological skills and bizarre schemes, Monteview is very similar to Dr. Heinz Doofenshmirtz.
Ad blocker interference detected!
Wikia is a free-to-use site that makes money from advertising. We have a modified experience for viewers using ad blockers

Wikia is not accessible if you've made further modifications. Remove the custom ad blocker rule(s) and the page will load as expected.