Mr. Grocery's Store is the main location to the AJM STUDIOS Comic, Grocery Store 101. The grocery store is run by Bruce Grocery and his secondary manager Larry Homestead. Mr. Grocery's store is located on the edge of downtown Greenwood.
The grocery store is a owned and run by Bruce Grocery who had this business passed down from his father. The business started in Greenwood by his father. Today Mr. Grocery's Store is a large grocery store, and one of a kind.
Employees
Edit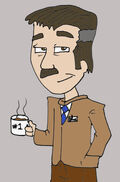 Bruce Grocery - Store Manager
Larry Homestead - Secondary Manager
Moe Hackeysack - Head Shelf Stocker
Erin Rouse - GoTo Employee
Marty Shoeman - Produce
Barry Winslow - Shelf Stocker
Paul Benson - Cashier
Tarin Flaxseed - Cashier
Cindy Breakwater - Cashier
Lauren Olsinger - Bagger
Trent Goodwin - Bagger
Frequent Customers
Edit
To learn more about the frequent customers, check out their profiles here.